Baby and parenting products that moms and dads swear by
Parents are constantly overwhelmed with fresh offerings on the market, and when there's a new baby on the way, it's tempting to continue to bring home the tried-and-true products that worked with older siblings. There are several innovative baby and parenting products available now that make raising a child not only easier according to Bestproducts.com [...]
Parents are constantly overwhelmed with fresh offerings on the market, and when there's a new baby on the way, it's tempting to continue to bring home the tried-and-true products that worked with older siblings. There are several innovative baby and parenting products available now that make raising a child not only easier according to Bestproducts.com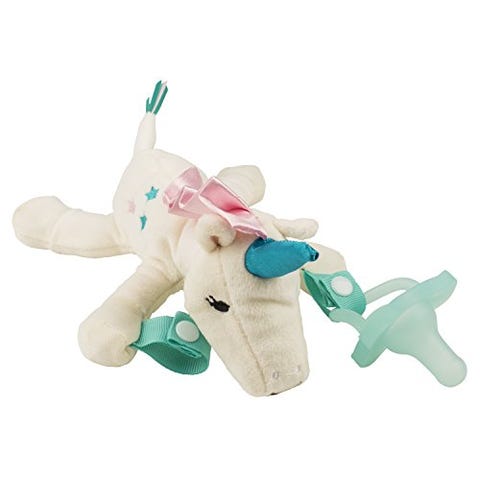 Dr. Brown's Lovey Pacifier and Teether Holder
Every baby needs a Dr. Brown's lovey! The paci comes attached to a sweet stuffed unicorn. While your baby will love squeezing and playing with her new friend, you'll appreciate the fact that this binky won't easily get lost.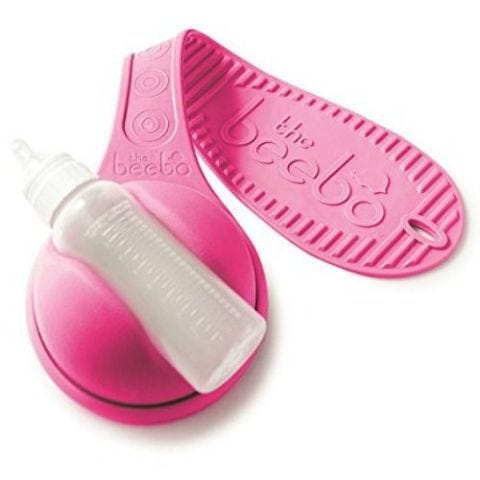 Beebo Baby Bottle Holder
If you're a new parent, it can take some time getting used to the frequent feeding sessions. Free up your hands with a Beebo! Plus, keeping a Beebo around might come in handy when a grandparent with arthritis wants to feed the baby.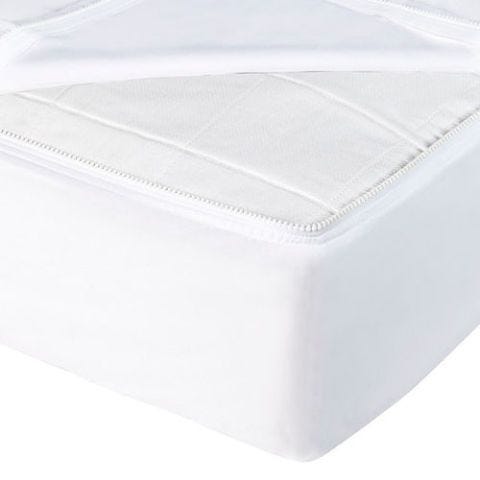 QuickZip Baby Crib Sheets
Changing the sheets in your baby's crib just got way easier! You no longer have to dig into the sides of your baby's mattress to swap out the sheets. Use this and simply zip off the top next time it's due for a wash!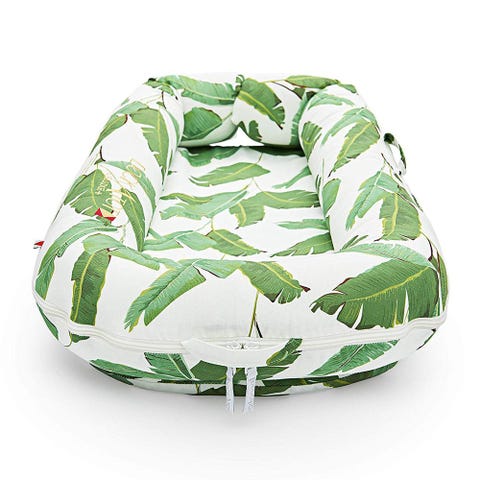 DockATot Deluxe Bananas for You Baby Lounger
This is a must-have for new parents! This trendy baby lounger can stay at home or travel with you, so it's great for parents on the go. Baby will love it too, since it's designed to replicate the feeling of being in the womb. It's a perfect tool for tummy time, too! The quality fabric used on this DockATot will not retain heat, so your little cutie pie will stay cool.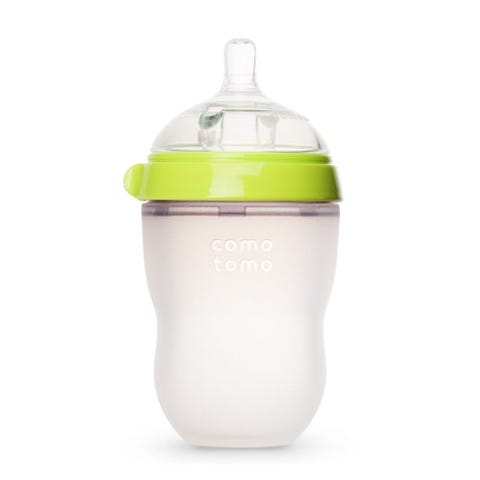 Comotomo Bottle
This must-have baby bottle has over 2,000 positive reviews on Amazon, and honestly, we're surprised it's not more! New moms and dads love these silicone bottles that are easy to clean and feed baby with.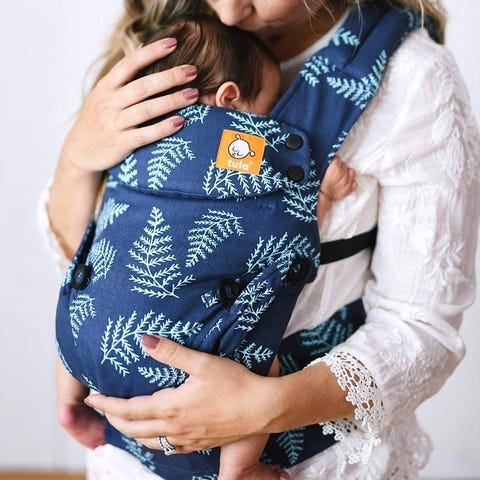 Baby Tula Explore Baby Carrier
Every new parent needs a sturdy baby carrier and this one by Baby Tula is stylish, too! Baby Tula offers an array of styles, but they're all neutral and tasteful. The ergonomic carrier can keep babies up to 45 pounds nice and snug.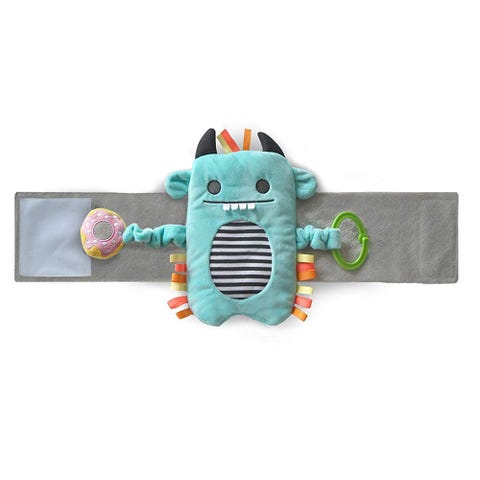 Aggie MD Gripebelt Baby Colic Relief
This genius baby product will soothe your baby in a pinch! When your little one starts to feel uncomfortable (thanks, colic!) grab this soothing belt. It'll warm your baby's tummy and provide comforting pressure and toys to play with while they start to feel better.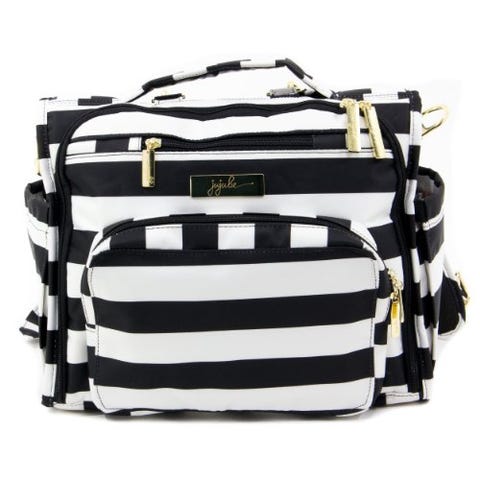 JuJuBe B.F.F Multi-Functional Convertible Diaper Backpack
Every new parent needs a diaper bag to rely on when situations get messy away from home. This chic option by JuJuBe not only offers plenty of storage for all of your baby's necessities, but it's convertible, too. You can wear it as a backpack or as a messenger bag.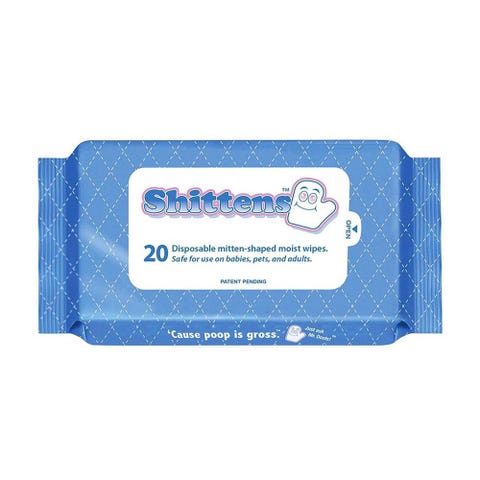 Shittens
Created because traditional baby wipes leave your hands at risk for any accident or mess, parents can clean their baby without feeling gross by using a pair of these. Just remember they're disposable, so don't use Shittens more than once! Oh, and they're ideal for quick spills and dusting the stroller down, too.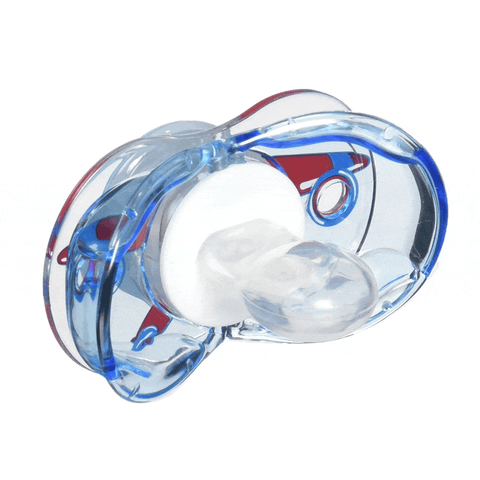 RaZbaby Keep-It-Kleen Baby Pacifier
Your baby's paci is going to fall on the floor — a lot. Hello, germs! This paci has a built-in shield that automatically closes when the pacifier is dropped, keeping the nipple clean.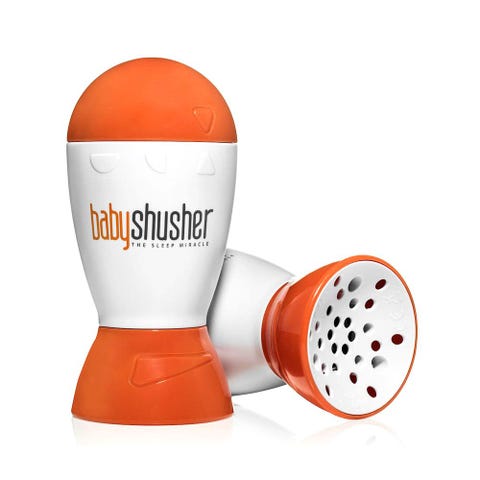 Baby Shusher Sleep Miracle Soother
Tired of shushing your baby to sleep? Turn the job over to the pro. This sound machine provides 15 or 30 minutes of continuous shushing sounds, making it easy to follow Dr. Harvey Karp's The Happiest Baby on the Block technique.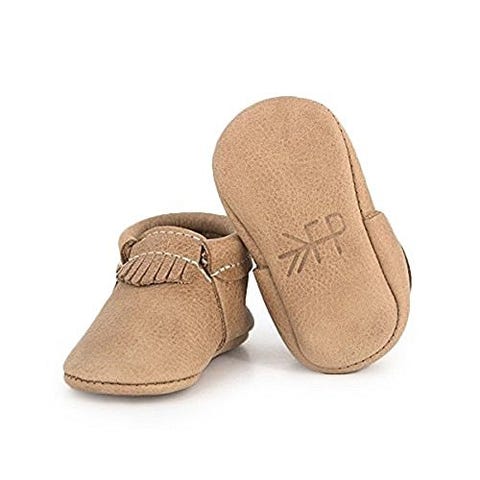 Freshly Picked Weathered Brown Moccasins
Freshly Picked is the go-to shoe brand for little toes! The sweet moccasins come in an endless amount of styles, and new designs are always being released. These are must-haves for your baby's first photoshoot.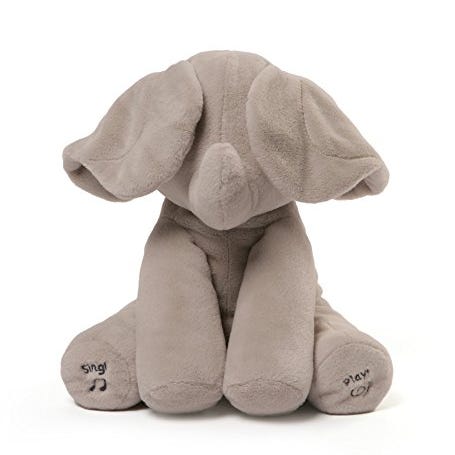 GUND Baby Animated Flappy The Elephant Plush Toy
This little plush is more than just a cute plaything for baby! The sweet elephant by GUND sings songs and plays peek-a-boo while his ears flap in rhythm. Your baby will be mesmerized, which means Mom and Dad can steal a few extra minutes!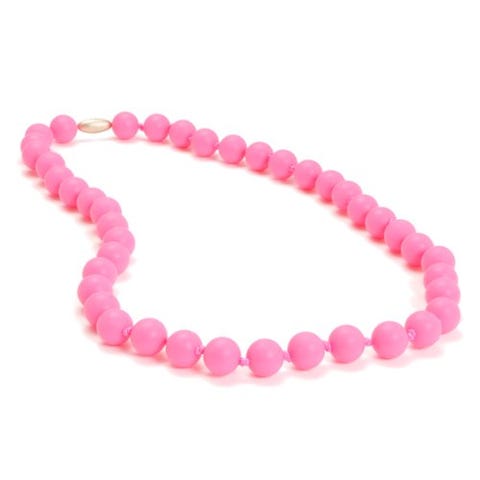 Chewbeads Jane Teething Necklace
If your little one is always looking for something to bite down on, here's the best fashion accessory you can wear! Chewbeads look just like a regular necklace, but they're designed for baby's little mouth.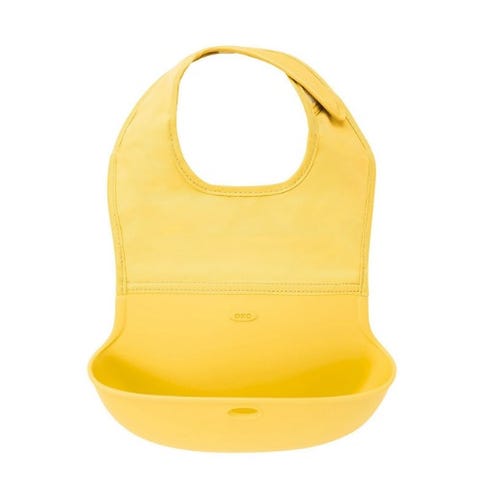 OXO Tot Waterproof Silicone Roll Up Baby Bib
This bib comes with a built-in catchall. When you want to be extra careful about keeping things clean during a feeding session, this is your go-to bib.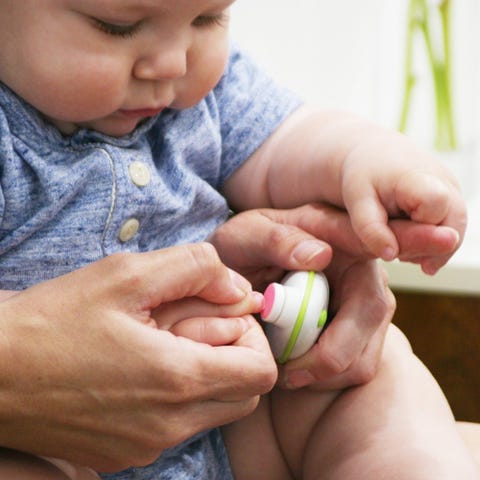 ZoLi Buzz B Electric Baby Nail Trimer
Best Baby Nail Trimmer
Little claws can grow quickly, and the last thing you want to do is hurt your baby trying to maintain them. This nail trimmer comes with four different cushioned pads, each designed for different stages of your baby's growth. It's a must-have if you have a baby at home.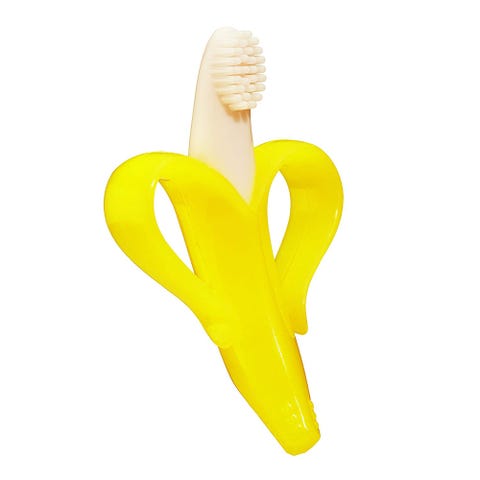 Baby Banana Baby Training Toothbrush and Teether
We can't get over how adorable this training toothbrush and teether is! A true two-for-one, the banana teether will familiarize your baby with the concept of brushing teeth, and it'll serve as a soothing teether in the process.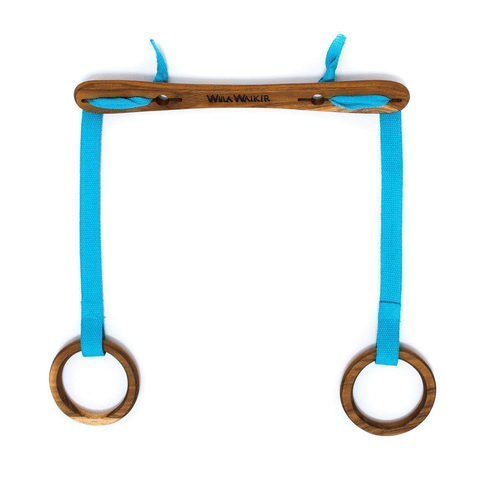 Willa Baby Walker
If your back is aching during the phase where your baby transitions from crawling to walking, consider using a Willa Walker so you can stand up straight while giving your baby something to hold onto while she gets her balance.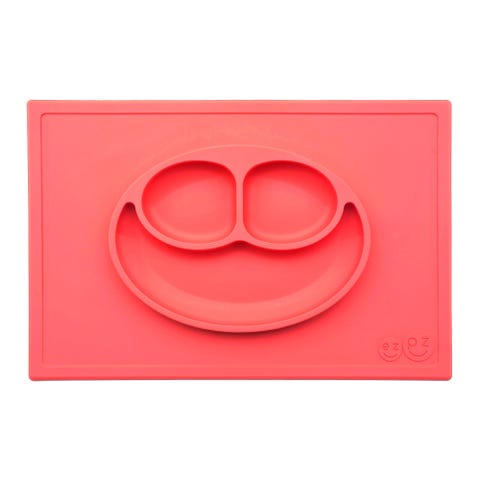 ezpz Happy Mat
Cheerios on the floor, no more! This genius silicone Happy Mat is an easy-to-clean serving dish and placemat all in one. The best part? Your kid's food won't go anywhere … unless your kid throws the food itself!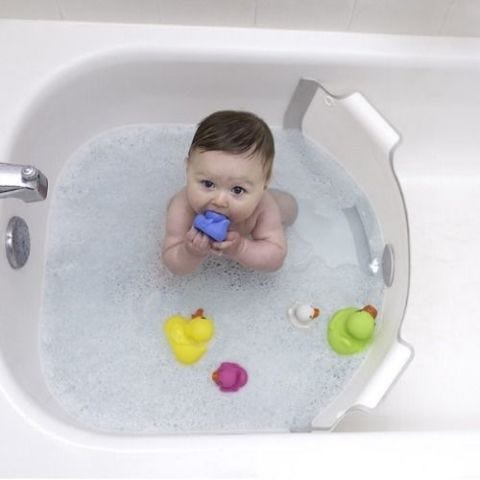 BabyDam Bathtub Divider
Gone are the days when you need to risk hitting your baby's precious head on the kitchen sink faucet because you don't want to waste a full tub of water!
Instead, try using BabyDam, the easiest and most brilliant way to control your baby's baths in a safe space. Not only does it make it simple for you to wash your baby in a smaller, yet open space, but it's safer than loading up a full tub — he'll always be in arm's reach.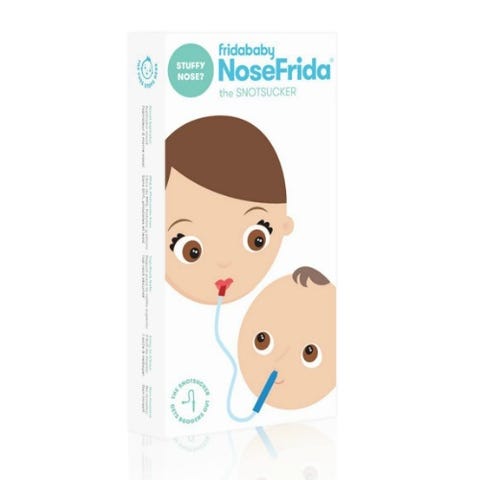 FridaBaby NoseFrida Nasal Aspirator
This is an item first-time moms might not know they need, but any experienced parent will tell you what a lifesaver this SnotSucker is. FridaBaby also has other baby essentials that make the ugly stuff a bit more bearable, like the Windi Gas and Colic Reliever.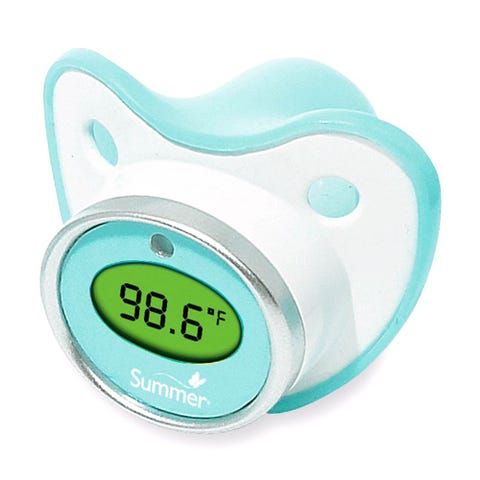 Summer Infant Pacifier Thermometer
Sneak that temperature reading on the sly — we won't tell! Use a simple pacifier thermometer to check if your baby's OK.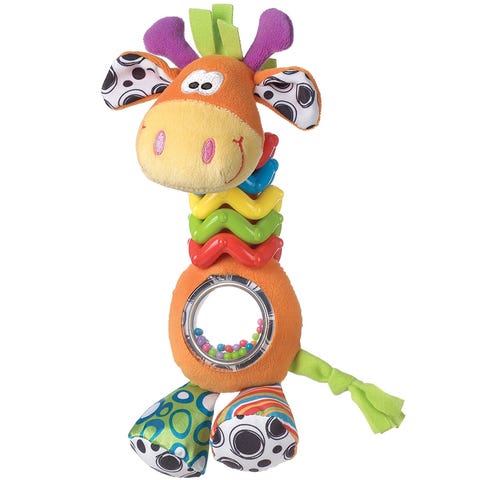 Playgro My First Bead Buddies Baby Toy
This toy makes a click-clack rattle sound that babies get so addicted to. This toy has hundreds of positive reviews on Amazon from parents who can't understand why it's become their baby's go-to favorite toy.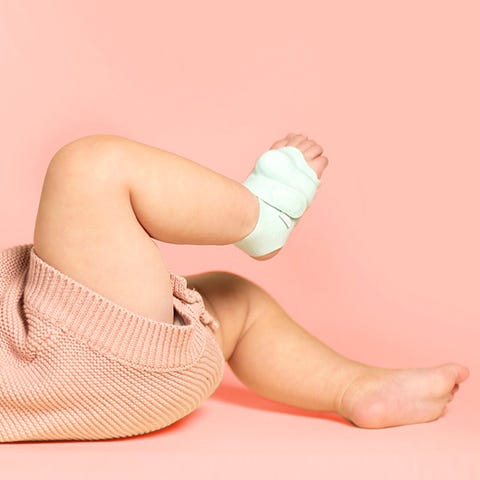 Owlet Baby Monitor
This sock by Owlet might help everyone get better sleep at night. The monitor sock just slips onto your baby's foot before bed, and if anything gets weird with your little one's heart rate or oxygen levels, you'll hear the sound of an alarm.
Britax B-Safe Elite Infant Carseat
This super solid seat has a steel frame and steel bars built into the base. You'll feel good about taking your brand-new baby in the car with a seat this sturdy. Plus, it's the one William and Kate used for George, Charlotte, and possibly baby number three!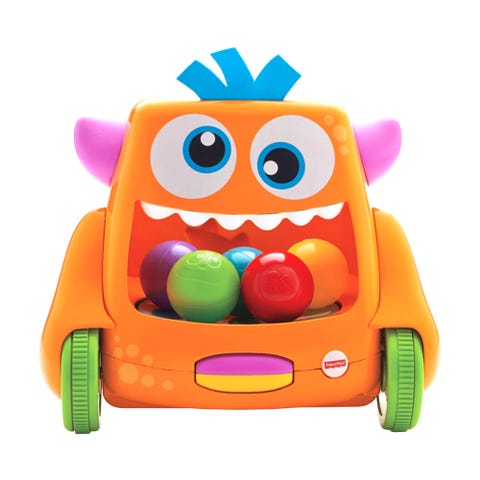 Fisher-Price Zoom 'n Crawl Monster
This is perfect for a busy baby! Your little one will love placing the balls in the monster's mouth and watching them spin. When your baby can crawl, he can chase the monster around as the balls are spit out. You won't even need to encourage your little one to crawl.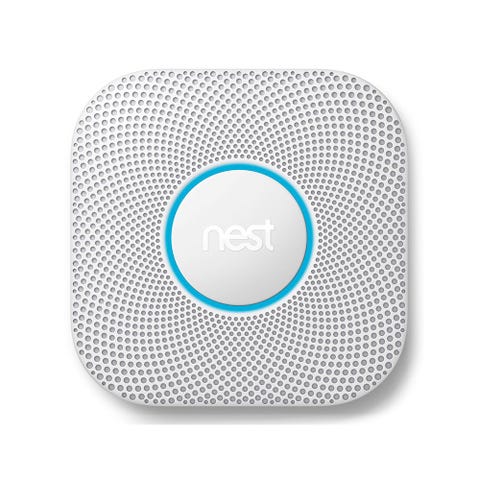 Nest Protect Smoke and Carbon Monoxide Alarm
This smart smoke alarm will send alerts to your phone if it detects smoke or carbon monoxide. Don't worry about waking your little one if you burnt the popcorn either — this alarm has a soft voice that'll alert you of minor smoke, so you can just disable it with your app as you open up the windows.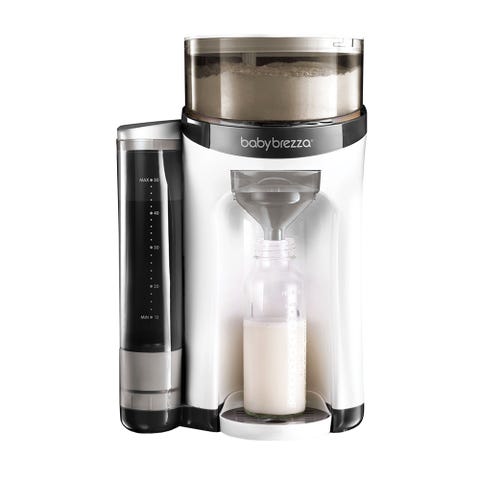 Baby Brezza Formula Pro
Here's one bottle maker you can set and forget. The Baby Brezza Formula Pro holds more than a pound of any brand's powdered formula and up to 50 ounces of water, so you won't have to refill it for days at a time. Select the size of the bottle you need — from 2 or 4 ounces for newborns, or 8 or 10 ounces for bigger babies — and press start.
The machine mixes the right amount of formula and water to prepare the perfect bottle in just seconds.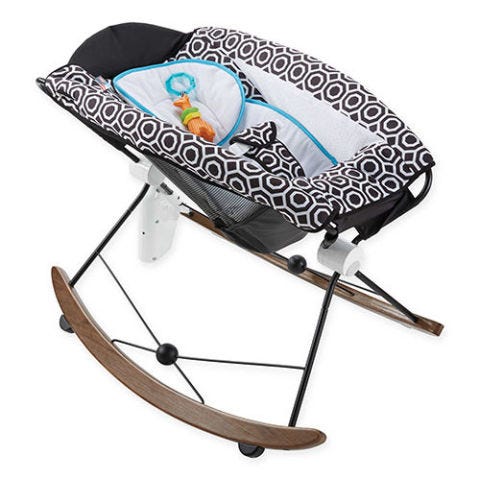 Jonathan Adler and Fisher Price Deluxe Rock 'N Play Sleeper
This product — referred to as the "dream machine" — is the one you'll want to design your entire nursery around. The sleeper connects to your smartphone, so you'll be able to control rocking motions, music, and vibrations.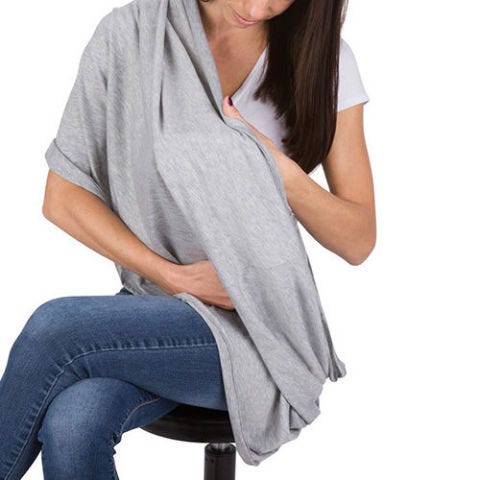 Breastfeeding Infinity Scarf and Nursing Cover
This simple infinity scarf unwraps into a casual, stylish nursing cover that you won't stand out in. Your baby will be practically full by the time any of your friends even realize what you're doing.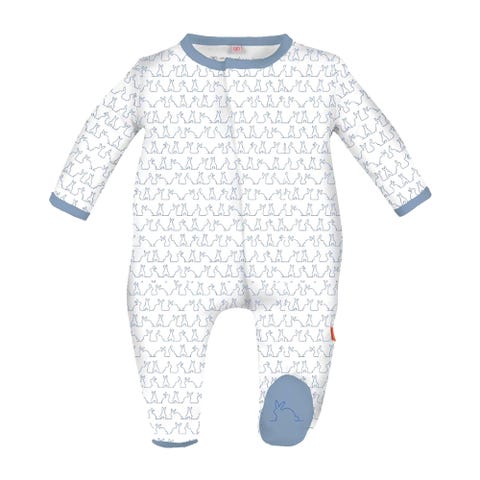 Magnetic Me Funny Bunnies Footie
This onesie is not only super cute, but it features magnetic closures, which make dressing or undressing your baby super easy.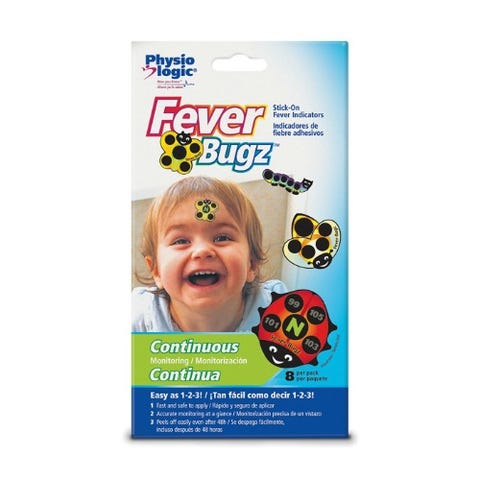 Physio Logic Fever-Bugz Stick-On Fever Indicator
If your little one is coming down with something, she's already uncomfortable enough! Instead of frustrating your kiddo with the usual thermometer, you can keep an eye on her fever by using one of these fever bug stickers.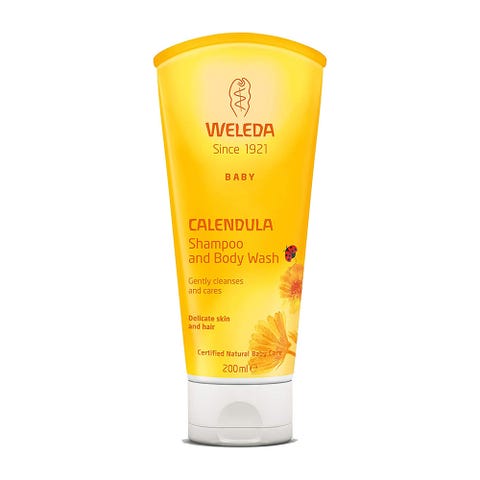 Weleda Calendula Baby Shampoo and Wash
This gentle baby shampoo and wash features organic calendula, which will help keep your baby's skin healthy. It smells so fresh, too.
Lansinoh HPA Lanolin
If you're breastfeeding, you'll need a nipple cream that'll keep your tatas looking and feeling healthy. Plus, this nipple cream doubles as an incredible lip moisturizer!
Dinner Winner Supper Hero Plate
Grab a superhero plate and watch your kid munch to the finish line! Small compartments pave through the plate, making it fun to clear each section before getting to the next. It'll make mealtime extra fun!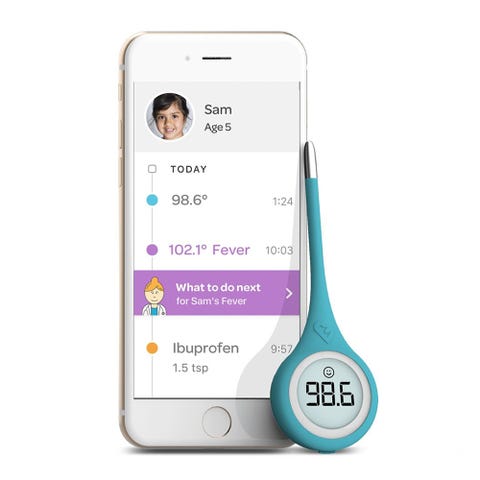 Kinsa Smart Ear Thermometer
Check up on your baby's health in one second with this tool. The smart thermometer will not only give you a speedy reading, but the app will advise you how to treat your sick infant, too.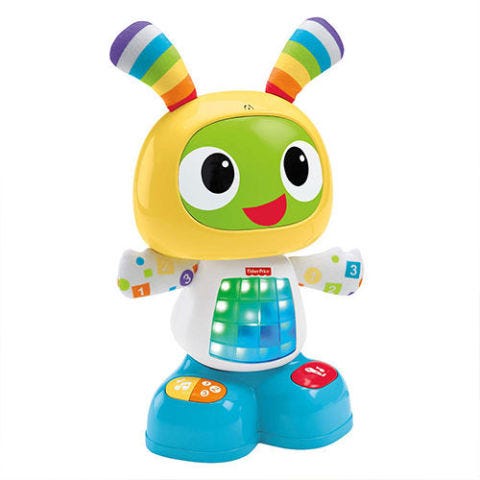 Fisher-Price Bright Beats Dance and Move BeatBo
Help your baby bust some great dance moves from early on with BeatBo! This colorful toy plays music, records a parent's voice, and shakes and shimmies while lighting up in neon colors. It's a fun time for all!
Source: https://www.bestproducts.com